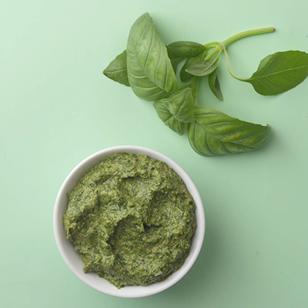 I've been spending a lot of time with my freezer lately. This time of year, the berry farm is beckoning with its fruit-laden bushes, my garden is overflowing with vegetables and my herbs are growing much faster than I can eat them.
13 of the easiest herbs and vegetables to grow
With so much fresh food for the picking right now, I've been saving much of it in my freezer for less plentiful times (winter!).
How to freeze 16 summer fruits and vegetables
One of my favorite things to make and freeze is herb pesto, for several reasons:
• Buying premade pesto from the grocery store can be expensive. I love to grow fresh herbs because it doesn't cost much (on average, a mere $30 a year) and then I have all these great fresh herbs to make pesto with. Plus, you may not find uncommon herbs, such as beautiful purple basil or licorice-flavored chervil at your local supermarket, so it's worth growing unique varieties. When my herbs are growing like crazy in the summer, I can make big batches of pesto to save for later in the year—which saves me time and money.
• Pesto freezes really well and when I freeze it in ice cube trays or 1/2-cup portions, I can just pop a few portions out to use in a sauce or soup for a hit of fresh herb flavor.
• It tastes like summer!
Since I have a variety of herbs in my garden—mint, cilantro and basil—I asked Carolyn Malcoun, our senior food editor, how I can turn any herb into pesto. Here are her tips:
• The basic elements of any pesto include herbs, nuts, cheese, oil, salt and pepper. Pesto traditionally involves cheese and nuts, but you can exclude either of these ingredients and adjust the others as necessary to achieve the desired consistency.
• Wash your herbs really well to get rid of any dirt or sand.
• Experiment with different hard and soft cheeses, including goat cheese, Pecorino Romano or Asiago.
• Experiment with different herbs. Soft herbs, such as tarragon, thyme, cilantro and basil, work best.
• Experiment with a variety of nuts beyond the pine nuts used in traditional basil pesto—try hazelnuts, pecans, walnuts—and toast the nuts to bring out more flavor.
• Make a big batch and freeze some for up to 2 months for later use.
• If you store your pesto in the refrigerator for a few days, press plastic wrap directly onto the surface to help prevent discoloration.
Now get started with these healthy pesto recipes:
Mint Pesto: A combination of fresh mint and basil makes for a bright and flavorful pesto that's great with lamb or chicken.
Cilantro Pesto: Try this delicious pesto on grilled fish or burgers.
Tarragon Pesto: The French flavor of tarragon inspires this pesto, which is wonderful with sauteed fish, chicken soup or chicken salad.
Basic Basil Pesto: Simplicity reigns in this traditional sauce—just basil, garlic, cheese and olive oil. Our one modification? We like omega-3-laden walnuts in the mix for their crunch and delicate flavor, but pine nuts, almonds, pecans or even pistachios may be substituted for the walnuts.
What's your recipe for making pesto? Tell us what you think below.
TAGS:
Michelle Edelbaum, Food Blog, What's in season
Michelle is the digital director for EatingWell. She puts her background in journalism to work online at EatingWell.com to help deliver daily inspiration for eating healthy.